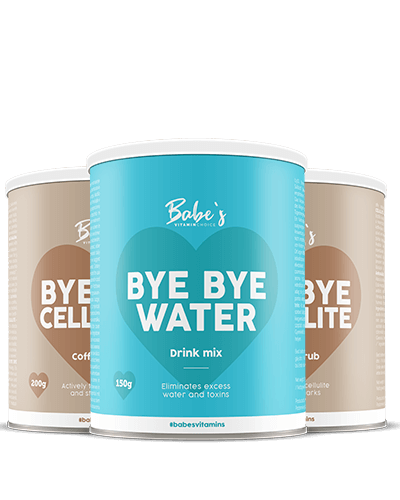 Bye Bye Water + 2x Bye Bye Cellulite
Dietary supplement
A delicious drink that helps eliminate excess water and contributes to weight loss
Prevents retention of excess water in body
Reduces bloating and puffiness
Contributes to weight loss
Supports urinary tract functions
Actively fights cellulite and stretch marks
Nourishes problematic skin

For better circulation
Net 550 g | for 75 days
14-day refund policy

Free delivery for orders over 50£

Delivery within 1-2 working days WHY DOES IT WORK?
Nettle root extract
Nettle is one of the best-known medicinal plants and is excellent for promoting the excretion and drainage of water from the body. It also supports renal excretory functions, venous circulation and urinary tract functions.
Elderberry extract
Elderberry supports sweating and contributes to weight loss and weight management. It also supports the immune system and improves blood circulation.
Arabica coffee beans
Arabica coffee beans make the skin firmer and smoother.
Himalayan salt
Improves blood circulation while massaging.
Extra virgin coconut oil
Pleasantly moisturizes the skin.
Cold pressed almond oil
Nourishes and regenerates chapped skin.
Helena Sophia
Great thing! Eliminates bloating and tastes great!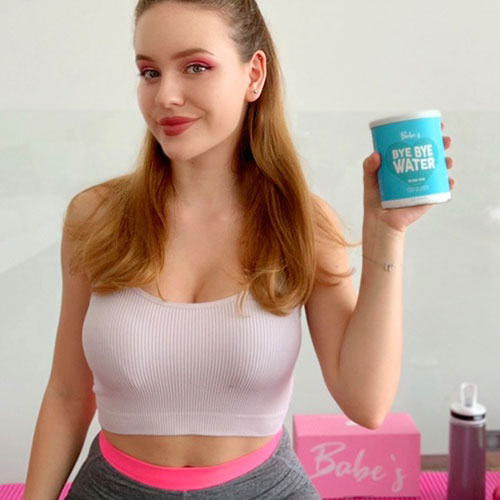 Alice
My skin is much more elastic and cellulite is greatly reduced! Great! I recommend it!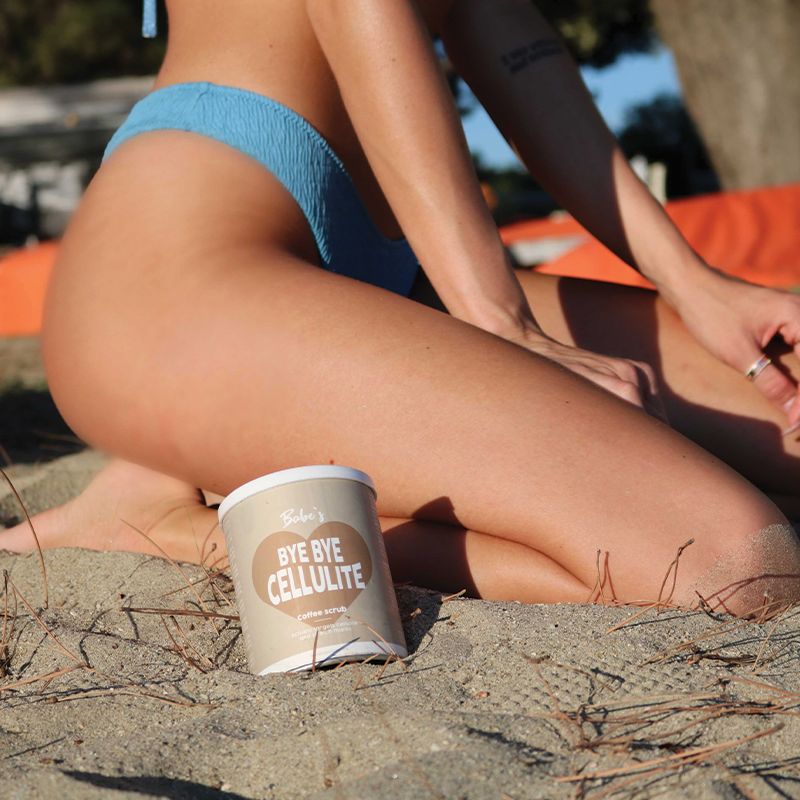 Freya
I am extremely happy with the Bye Bye Water blend, it helps me take care of my shape and eliminate bloating! Top top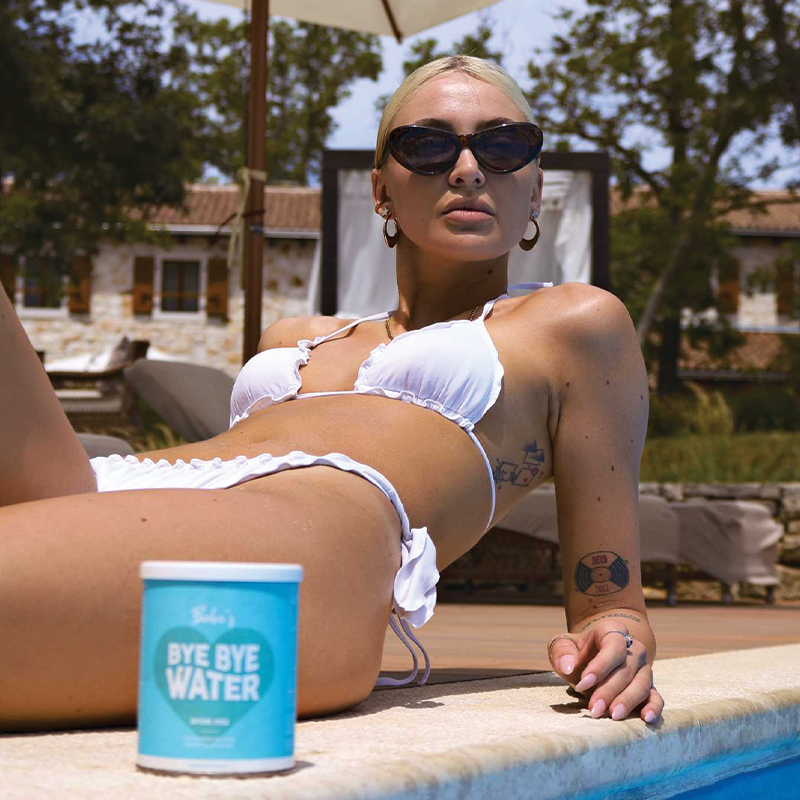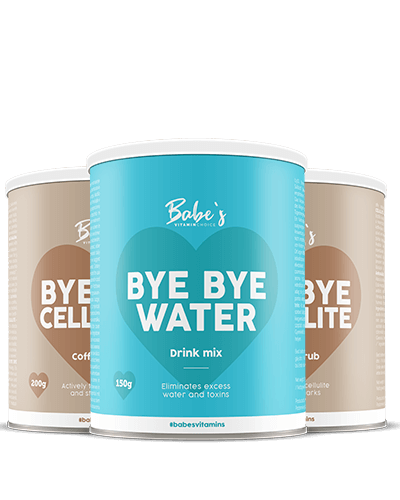 Bye Bye Water + 2x Bye Bye Cellulite
Pineapple-flavoured drink for faster elimination of excess water

Supports the elimination process

Drains excess water from the body

Supports sweating

Fights cellulite

Tightens the skin

Reduces skin imperfections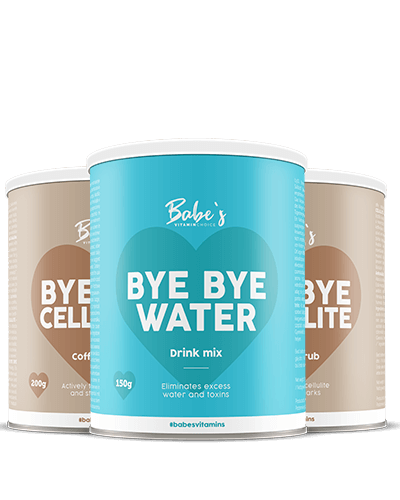 Bye Bye Water + 2x Bye Bye Cellulite
A delicious drink that helps eliminate excess water and contributes to weight loss
Prevents retention of excess water in body
Reduces bloating and puffiness
Contributes to weight loss
Supports urinary tract functions
Actively fights cellulite and stretch marks
Nourishes problematic skin

For better circulation
100% purchase protection with the option of returning the product - no questions asked. USAGE INSTRUCTIONS

Ingredients

CUSTOMER REVIEWS (

0

)
USAGE INSTRUCTIONS

Bye Bye Water: Every day put 2 measuring units (10 g) of the BABE'S BYE BYE WATER drink in a glass of water. With one unit you will receive 100 mg of nettle extract and 100 mg of the elderflower extract.

The drink tastes like pineapple.

Bye Bye Cellulite: All good things start in the shower! Get your body wet and then massage the scrub all over it. Wait at least 5 minutes and then rinse well.

Easy and fun!

We recommend the use of the scrub 2-3 times a week.

Warnings

We recommend taking a dietary supplement as part of a varied and balanced diet, and a healthy lifestyle. The recommended daily amount or dose must not be exceeded. A dietary supplement is not a substitute for a balanced and varied diet. Keep out of reach of children!

Ingredients

Bye Bye Water – dietary supplement with sweetener

Ingredients: Maltodextrin, bamboo fibre, natural pineapple aroma (1.5%), nettle root extract, elderberry extract, sweetener: steviol glycoside.

Bye Bye Cellulite

Ingredients: ground roasted arabica coffee beans*, pink Himalayan salt, extra virgin coconut oil *, cold pressed almond oil, unrefined neem oil, neem leaves, vitamin E.

CUSTOMER REVIEWS (

0

)
Only 44,07£ left till FREE DELIVERY
Special offer only here!
Add to your order and save!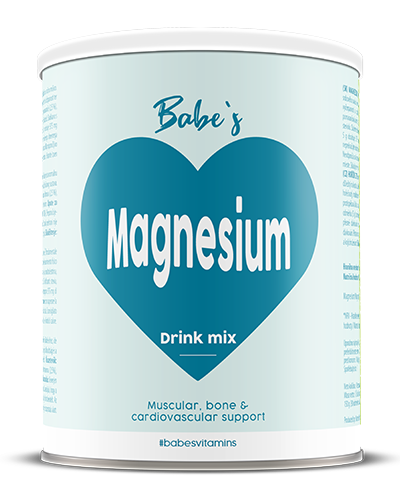 Babe's Magnesium
A delicious drink with magnesium citrate for optimal absorption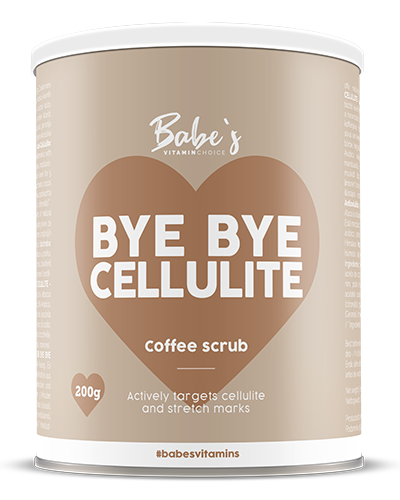 Bye Bye Cellulite
An effective scrub for beautiful legs without cellulite!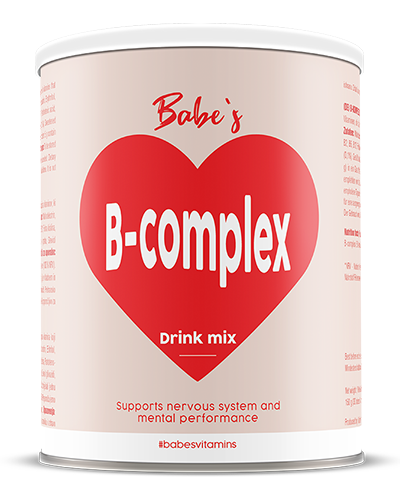 Babe's B-Complex
Activate your health with the Babe's B-complex